Sanctum of Sahir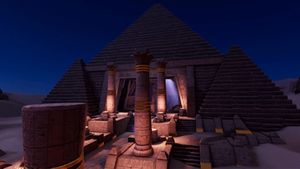 Duels at this desert temple take place in three different areas. The first part of the battle occurs outside the temple. As a sandstorm approaches, a giant door opens, and players must enter the temple to avoid the damaging winds. After the door closes, toxic gas eventually fills the chamber, and another door opens, granting access to the Sanctum's crypt.
| Tiles | Introduced | Super Feature |
| --- | --- | --- |
| 23 (8,8,7) | 1.4.0 | Three Sections |
Super Feature
In-game description: A SANDSTORM AND DEADLY POISON AWAIT THOSE WHO SEEK THE SECRETS OF THE TOMB.
Details:
The door to the second section opens 40 seconds after the match begins
The first section becomes totally engulfed by the sandstorm after 55 seconds
The door to the third section opens 2 minutes and 5 seconds after the match has started
The second section becomes totally engulfed by toxic gas at the 2 minute and 25 second mark
Tiles become inaccessible after being engulfed (meaning you cannot teleport to them)
The sandstorm and toxic gas deal approximately 10 damage per second to a player standing in them
Pickups are only available in the second section, however they regenerate much faster than pickups on the other maps (25s instead of 45s)
3D Map
Trivia
This is the largest arena in the game by far, with 23 tiles, but each individual section has fewer tiles than every other arena.