Magic Missile
Details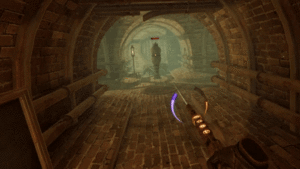 In-game description: TAP TO SHOOT ONE MISSILE. HOLD TO SHOOT THREE MISSILES.
Icon
Spell Type
Damage
Cost
Damage/Mana
Warmup
Speed
Projectile
12 per missile

20 (uncharged)
10 per missile (charged)

0.6 - 1.2
0s or 0.5s
~13.3m/s
The charged shot will always fire 3 missiles when you have at least 30 mana
If you fire a charged shot with less than 30 mana, you'll fire 1 Missile for every 10 mana you have remaining. For example, if you have 23 mana when the charge completes, you'll fire 2 missiles (costing 10 mana each) and have 3 mana left over
It's possible (but unlikely) to fire just 1 missile for a cost of 10 since you need to have at least 15 mana to initiate the charge and you regenerate mana while it's charging
Trivia
When holding a wand, you can change the path of charged Missiles by twisting your wrist when they're fired.
History
PATCH 1.2.0

- Magic Missile was added to the game

PATCH 1.2.3

-

Nerf

: Cast cost was increased from 12 to 15

PATCH 1.3.0

-

Buff

: When charged, each missile costs 10 instead of 15

PATCH 1.6.0

-

Nerf

: Mana cost when uncharged increased from 15 to 20;

Buff

: Damage per missile increased from 8 to 12