Dead Master's Vale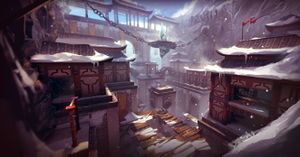 Dead Master's Vale is small settlement hidden high in the mountains of China. The eponymous master turned on his clan and tried to erase all traces of The Vale's magic, which resulted in his death. This arena was added to the game in the Eastern Realms update.
| Tiles | Introduced | Super Feature |
| --- | --- | --- |
| 12 | 1.2.0 | Mercurial Crystal |
Super Feature
In-game description: THE MASTER'S MERCURIAL CRYSTAL OCCASIONALLY HEALS OR ATTACKS THE NEAREST PLAYER.
Details:
The Crystal is neutral 70% of the time, heals 20% of the time, and damages 10% of the time
The healing effect restores 2 HP per second over 10 seconds
The projectile does 10 damage
3D Map
Trivia
Dead Master's Vale was is the only outdoor arena in Wands until Sanctum of Sahir was added