Spells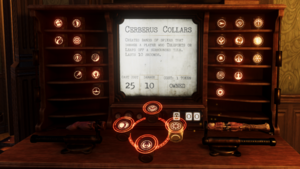 Overview
Every time you level up, you can unlock a new spell, until every spell is unlocked.
There are currently 26 spells in the game. 16 were included when the game was originally released, 6 were added in the Eastern Realms update, and 4 have been added since.
The developers frequently update the spells to make the game more balanced, and they continue to add new spells periodically. As a result, the balance of power is constantly shifting. Over a dozen different spells have arguably been the most powerful.
Gameplay
Each wand holds 5 spells. Teleport is always included, but the player can choose any combination of the other 25 spells to complete their wand, meaning there are a total of 12,650 different spell combinations.
There are several different kinds of spells, and each spell has unique properties. 6 spells (including Teleport) are unlocked from the beginning. You unlock the other spells with spell tokens, which you earn by leveling up.
Both players start every game with 100 HP and 100 mana. Mana regenerates at a rate of 15/s for players on platforms that don't allow for dodging, and 12/s for players who can dodge. Mana regenerates 50% faster in the final minute of a match. HP does not regenerate on its own, but there are various ways to restore your HP.
Spell Types
Projectile: Aim freely and shoot a spell from your wand
Tile Effect: Cast a dangerous, lingering spell on a tile
Summon: Create an ally to attack or distract your opponent
Defensive: Block or reduce damage
Movement: Teleport to a different tile
Spell Comparison Chart
Spell Name
Icon
Emoji
Spell Type
Damage
Cost
Damage/Mana
Warmup
Speed
Duration
Cooldown
Min
Max
Acid Cloud
Tile Effect
04/s - 08/s
40
0.03
1.93
1s
-
12s
none
Armor of the Sun
Defensive
Blocks 2/3
75
-
-
0s
-
3 HP
none
Blazing Meteor
Projectile
25 or 12.5
40
0.31
0.63
0s
10 → 18m/s
-
0.75s
Blood Bolt
Projectile
06
02 HP
-
-
0s
~20m/s
-
0.2s
Cerberus Collars
Tile Effect
10
25
0.40
0.40
1s
-
8s
none
Chaos Leap
Movement
00
40
-
-
0s
0.15s
-
none
Chilling Clutch
Projectile
10
20
0.50
0.50
0s
~17m/s
5s
1.0s
Curse of the Undead
Tile Effect
Healed HP
50
-
-
0s
-
10s
none
Demi
Projectile
50%
50
0.02
1.00
0s
13m/s
-
0.75s
Devil's Spit
Projectile
18
25
0.72
0.72
0s
10 → 18m/s
-
0.2s
Devil's Twins
Summon
Reflected
35
-
-
0s
-
1 hit
none
Disc of Antioch
Projectile
07 per bounce
40
0.18
0.89
0s - 2s
12.5m/s
1 - 5 bounces
0.5s
Dragon's Breath
Projectile
10/s - 20/s
25 + 5/s
0.12
2.00
0s
20m/s
Mana
none
Electric Fist
Projectile
05 per bolt
30
0.17
1.17
0s - 2s
Up to 12.5m/s
-
0.2s
Flaming Phoenix
Summon
10 - 25
35
0.29
0.71
0s - 2s
13,7,13m/s
10s
1.50s
Hail of Death
Projectile
03
05
0.60
0.60
0s
~13.3m/s
-
0.10s
Heavenly Dome
Defensive
00
20 + 20/s
-
-
0s
-
Mana
none
Lightning Strike
Projectile
40
15 + 45
0.72
0.72
1.5s
Instant
-
0.2s
Magic Missile
Projectile
12 per missile
20 - 30
0.60
1.00
0s - 0.5s
13m/s
-
0.5s
Oxymora
Summon
10 per shot
40
-
-
0s
12.5m/s (prj)
100 HP
none
Petrifying Prison
Tile Effect
00
35
-
-
0s
-
3s
none
Shield of Light
Defensive
Reflected
20 + 5/s
-
-
0s
-
Mana
none
Skull Specter
Summon
15
30
0.50
0.50
0s
12.5m/s (prj)
1 shot
1.5s
Soil Spikes
Tile Effect
25
40
0.63
0.63
3s
-
Touch
none
Stone Demon
Summon
10 per shot
80
-
-
0s
12.5m/s (prj)
50 HP
none
Teleport
Movement
00
25
-
-
0s
0.15s
-
none